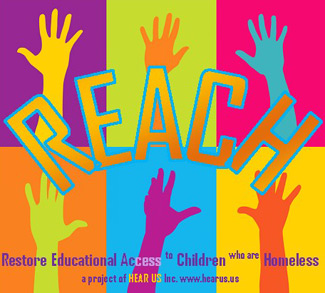 REACH: GREAT PROJECT--GREAT TOOLS!

Restore Educational Access for Children who are Homeless
Custodial parents without resources are lucky if they can make fragile arrangements for their children before heading to jail.
Temporary caregivers--friends or relatives pressed into service at the last moment--might live away from where the family resided. Children at the caretakers may unnecessarily face loss of their school--their only familiar environment. Or the new school may refuse to admit the children because they are not "residents" of the new district.

Often schools don't recognize that students with a custodial incarcerated parent may fall under the definition of homeless. Parents or caregivers typically do not identify the children's living situation as 'homeless.' Children, lives filled with chaos and pain, lose stability and security of their school at a time when they need stability the most. This loss intensifies their trauma, jeopardizing their educational success.

REACH, a project of HEAR US, (based on the federal McKinney-Vento Homeless Education Improvements Act) guides parents in jails and prisons to advocate for their children from behind bars:
A fast-paced 11-minute "how-to" video "REACH-Connect Your Children With Education" is available on the My Own Four Walls DVD collection. It explains, in simple language, what the children's educational rights are and how the parent can help their children get into school. It's geared to inmates but is a perfect McKinney-Vento homeless education intro for staff and volunteers, as well as educators.
HEAR US REPORT Mom in Jail, Kids Pay the Price
Presentations to inmates and jail staff. Contact

This email address is being protected from spambots. You need JavaScript enabled to view it.

at HEAR US.