Here are news media stories that mention Diane Nilan, and/or HEAR US. Also included are op-ed pieces written by Diane.
Soon after Diane's letter to the editor appeared, the High Country Press ran an introductory article about Diane's work. (9/4/23)
When Diane moved to North Carolina, she knew she'd get involved in homelessness locally. A meeting of the Boone town council that focused on homelessness created the opportunity for her to share her thoughts in the Watauga Democrat (8/31/23).
Back to school time means even more to students experiencing homelessness. Diane's op-ed column in the Chicago suburban Daily Herald outlines some ways Illinois schools are missing tens of thousands of McKinney-Vento students. (8/17/23)
What do millionaires and homeless kids have in common? Here's an insightful article with an equation that helps quantify the need and help available in Bucks County, PA. Bucks County Beacon. (2/23/23)
What a great article about the Memorial Blanket project which had a lot of HEAR US involvement! This ran in the Progressive, (12/29/22)
Just in time for Thanksgiving. USA Today story about the struggles of a family in Las Cruces, NM, and their fragile housing situation after their period of homelessness. HEAR US filmed them in early 2022 for a NM film project. (11/21/22)
The Babes of Wrath book tour in September '22 brought several good news stories. This, from the Northeaster in Minneapolis, was thorough coverage. Story on PG 9 (10/5/22)
The Babes of Wrath love libraries, and librarians! Our session in the little library in Whitehall, MT generated a great news story in the Whitehall Ledger. (9/28/22)
Small town, big news! Babes presented at Dawson Community College. Hometown paper, Glendive Ranger Review covered the event smartly! (9/22/22)
Another Piggies TV news story, this time from Asheville, NC. (7-28-22)
Diane brings These Little Piggies are Homeless to Brevard, NC for the Memorial Blanket Project. TV News story. (7-20-22)
HEAR US board launches the Charlie blanket project for the Memorial Blanket Project. NCTV story (6-15-22)
An in-depth interview with Diane on WNIJ-NPR about her work--past, present and future. (5-25-22)
This wide-ranging interview in the West Suburban Living magazine covers Diane's 3+ decades of working with families experiencing homelessness. (2-1-22)
Craig Dellimore, WBBM Newsradio in Chicago, interviewed Diane for his 30-minute At Issue show. They discussed her latest book, Dismazed and Driven - My Look at Family Homelessness in America, and what she's seen in her 16 years of travels. (12-12-21)
Diane weighed in on the despicable increase in homeless sweeps that are creating havoc, including for the families and youth being displaced and arrested. The Progressive Magazine featured a story by Eleanor J Bader. (12-8-21)
Diane's 11/30/21 book presentation in Aurora, IL received in-depth coverage by Deena Sherman in The Voice. (11-16-21)
Great story about Diane's work and the upcoming diaper drive appeared in the Chicago Tribune/Beacon News. (11-16-21)
Responding to a book review about homelessness, Diane's op-ed column appeared in the Illinois Times. (9-16-21)
Opportunity presented itself in June 2021. The Doubled Up Workgroup of the Dane County (WI) Continuum of Care had been working on ways doubled up and self-pay families "not homeless enough" could get housing support. Diane offered to do a short film of interviews with families in those situations. The Wisconsin State Journal reported on the collective effort. (8-8-21)
Diane has long ties to the University of Notre Dame. Her reply to a Letter to the Editor in the Observer about homelessness will hopefully inspire more thought and action. (5-5-21)
Oscar time! Nomadland is a front runner for Best Picture. Tribune reporter contacted Diane for her take on the film, resulting in an opportunity for her to opine about life as a nomad. (4/23/21)
Extensive interview of Diane about Dismazed and Driven and her HEAR US work in the prestigious Los Angeles Review of Books. (12/23/20)
People's Tribune picked up TheReporters' story. (12/19/20)
TheReporters.org published a spread about and from Dismazed and Driven. (12/16/20)
Diane responded to an op-ed piece in the CT Mirror about federal approaches to homelessness. (11/2/20)
A new USA Today columnist used her interview of Diane to start her new gig with that popular paper. In the process, she highlighted the 15 year history of HEAR US. USA Today (9/15/20)
Evictions and unemployment--creating dire circumstances for millions. Homelessness sure to skyrocket when we can least handle it. HEAR US and Diane, along with Changing the Paradigm co-author Yvonne Vissing weigh in on this crisis. The Progressive (7/1/20)
Nutritional needs and homelessness dovetail for most families and youth experiencing homelessness. Diane was interviewed on this topic for an article on TruthOut. (5/12/20)
Diane and Yvonne Vissing, co-authors of Changing the Paradigm, also wrote an article for a special focus on inequality during the coronavirus for the prestigious Contexts publication. (4/16/20)
Diane shared her reasons for the need to change HUD's definition of homelessness to match the one used by the US Department of Education. TruthOut (2/9/2020) [See bottom of this page for "print" copy of this article.]
My visit to Florence, SC, on 1/20/2020 resulted in a nice article in MyFlorence.com (1/28/2020)
All the hoopla about lunch-shaming and the work HEAR US has done on this topic brought attention from TruthOut. (1/2/2020)
Diane and Professor Yvonne Vissing teamed up to write this piece on lunch-shaming, published in Public Seminar. (11/14/19)
While visiting Sweet Home, OR on the 2020 tour, Diane was interviewed by the local news, the New Era. (11/6/19)
Homelessness in plain sight points out Diane. Even in Naperville Sun. (10/25/19)
Lunch-shaming in Cherry Hill NJ brings the HEAR US Babes of Wrath and national media attention from Philadelphia Inquirer. (9/11/19)
Ambitious trip on the horizon: HEAR US 2020 VisionQuest. Begins July 2019. Naperville Sun story (6/28/19).
The past--Diane's days running the shelter at Hesed House in Aurora, IL--were years of rich experiences. She helped countless families. This story features one family from 2000, one that Diane didn't forget, nor did they forget her. (1/9/18)

International

attention to the work of HEAR US came about in the Fall 2017 when the US correspondent for the respected German TV station Spiegel asked if she could travel with Diane, filming her as she filmed families in New Jersey. The final result was a 10-minute story, much focused on Diane's efforts to give voice and visibility to families and youth experiencing homelessness.
In 1987, the federal McKinney-Vento Homeless Assistance Act passed. To reflect on the changes, particularly as they affect families and youth, SchoolHouse Connection executive director Barbara Duffield and Institute of Children, Poverty and Homelessness (ICPH) chief of staff Liz Cohen wrote this insightful piece, The Silent Crisis: Student Homelessness on the 30th Anniversary of the McKinney-Vento Act. They invited Diane Nilan, HEAR US president and founder, to comment.
Diane gave a keynote presentation at a statewide McKinney-Vento education conference in New Hampshire in May 2017. In the audience was Dr. Richard Feistman, a researcher from the Center for Collaborative Education. He wrote this assessment of the day's presentations by Diane and SchoolHouse Connection's Barbara Duffield.
While on the other side of Washington State, a reporter from the Inlander caught up with Diane and wrote this. (Inlander, Sept. 30, 2016)
Diane's trip to Washington State took her to Whidbey Island. This is great story about her efforts! (South Whidbey Record, Sept. 2016)
The 10th Anniversary of HEAR US (2015) made the esteemed Positively Naperville news (July '15).
Educational Leadership Journal's March 2015 issue contains an excellent story about DOUBLED UP by THEO's Vicky Dill, including HEAR US vignettes (and links) of families and youth filmed by Diane when she created the documentary Worn Out Welcome Mat - TX. (PDF)
Naperville Magazine focused on the upcoming 10th Anniversary of HEAR US and the importance of this unique nonprofit. (12/14)
On a Babes of Wrath tour through Montana in the Fall of 2014, Diane was able to screen My Own Four Walls for an audience in Missoula, MT. Here's the story that aired about the event. (Nov. 2014)
Diane was contacted by a reporter from the Chattanooga Times Free Press in to talk about family/youth homelessness. The former mayor of Chattanooga did a follow up Op-Ed piece, quoting Diane extensively. (10/14)
Diane was interviewed by the University of St. Francis (Joliet, IL) TV station. (3/14)
HEAR US featured in Huffington Post story about rising homelessness among students. (6/28/12)
HEAR US featured in UNCENSORED magazine photo/essay (May 2012))
HEAR US sparked this Huffington Post story on homeless families staying at Disney World area motels. (4/19/12) HEAR US VIDEO from Disney World
HEAR US helps homeless kids go to Washington, DC for a blockbuster hearing on kids experiencing homelessness! Media coverage too plentiful to list here, so check the HEAR US Facebook page for a listing. This hearing resulted in Diane and Rumi being invited to CNN for their coverage of this under-reported issue.(12/15/11)
HEAR US won the CITGO Fueling Good Contest! Out of over 1500 entries nationwide, HEAR US was one of the 12 nonprofit causes to get $5000 free gas! NCTV-17, Naperville's community TV, covered the award event, which included a visit from good ol' Mayor Pradel! PICASA Photos 12/14/11
One of the best interview write-ups Diane has had, at the hands of Eve O'Connor, a journalism student at Oberlin College in OH. 11/10/11
Diane's recent round of travel (GA, OH, IN) brought great interest and excitement, including from students, staff and community members in Oberlin, OH. She spoke with a reporter about her efforts to give voice and visibility to homeless children and youth. 11/4/11
HEAR US and Laura Vazquez, NIU film professor, are proud to join together for the Naperville Film Festival on Sept. 19, to screen the award-winning on the edge. Media coverage includes: TribLocal, 8/16/11 Chicago SunTimes, 8/26/11 Patch.com, 8/30/11

Filming for the newest HEAR US video project, Littlest Nomads, in Eugene, OR, Diane discovered that the daycare center she was filming would be soon closing due to lack of funding. She initiated a last-ditch campaign to save First Place Kids Center, with hopes of at least raising awareness about this loss. (5/21/11, Eugene Register-Guard)
Heading west to meet on the edge director Laura Vazquez in Las Vegas for the BEA Film Festival awards, Diane was invited to Alamosa, CO to present and to screen the HEAR US films. (4/6//11)
Diane spent a day on the Hill to raise awareness about homeless children, youth and families, invited by Congresswoman Judy Biggert (IL). Chicago area story in the Daily Herald (3/31/11). Congressman Alcee Hastings (FL) also wrote about this event for the Hill Blog (4/6/11)
Follow-up interviews with Diane Nilan at Track180 studios. 3/22/11
Series of 6 interviews with on the edge director Laura Vazquez. Includes several minutes of footage from this new documentary! Track180.com, 3/7/11
Diane traveled to Milton, FL to do a benefit on the edge screening for Melissa and her family, facing homelessness again. Enough funds were raised, along with a bucket-full of community awareness, helped by Mark O'Brien's column, 3/1/11.
Prestigious Film Festival Picks on the edge for 1st prize! BEA Film Festival awards to be given in Las Vegas, NIU Today's story, 2/21/11.
SOUTHERN DI

SCOMFORT TOUR stories
Carlisle, PA, reports the return of voyager Pat LaMarche after this amazing journey. Cumberland.com (Sentinel), 2/1011
Birmingham, AL, HEAR US discovered a story in the making--about a movement to serve homeless youth in this community. The local organizers welcomed the Southern DisComfort Tour with great media and a room filled with eager concerned citizens.
Mobile, AL, despite a raging rainstorm, found an eager group of community activists and folks--homeless and not--to hear about homelessness in the southeastern states. Press-Register story, 2/1/11
Tallahassee provided a great opportunity to share on the edge with an audience of persons who are homeless. Here's a TV news clip. (1/29/11)
In Carlisle, PA, media coverage of our tour from local paper thanks to Pat LaMarche (HEAR US Advisiory Board).
Shelby, NC, one of the many stops on the HEAR US/Safe Harbour "Southern (Dis)Comfort" tour. Great media coverage. Tremendous response. Wahhooo!
Las Cruces, NM, a place Diane has frequently visited to film, speak and observe, is the home of Tina and her 6 children. Diane met them January 2010 and filmed Tina's story. They've kept in touch through a saga of brutal homelessness, uncertain housing, and pending homelessness again. Tina's courage to share her story attracted vile comments from Las Cruces Sun readers. 1/7/11
Aurora, IL, Diane's Previous Home Weighs In - A columnist in Aurora, Deena Bess Sherman, interviewed Diane recently. The Aurora Beacon News story reflects her commitment to ending homelessness. 1/7/11
Mississippi HEAR US Visit Raises Awareness - Diane's been to Starkville, Mississippi twice, both times meeting with Mayor Parker Wiseman. Her visits were spurred by a tragic fire in Dec. 2009 that took lives of 3 women and 6 young children. The Starkville Daily News story nicely covers the encounters. 11/30/10
Michigan Provides Opportunity to Share HEAR US Documentaries - Diane was invited to speak at 2 events in Adrian, MI for National Homelessness and Hunger week. This community has made tremendous strides in alleviating homelessness for adults, families and teens. One group was honored at the event.
on the edge Director Laura Vazquez did an extensive interview with WNIJ's Guy Stevens sharing her observations about the women in our documentary and family homelessness. Full interview (16 min.)11/19/10

Homelessness awareness month--November--finds Diane heading up to Adrian, MI (not in Tillie!) to speak at their conference. This community does some impressive work with homeless families, teens and adults. Their plans are impressive too! 10/28/10
Northern Illinois University's Northern Star newspaper interviewed Laura and me about on the edge. He asked some interesting questions. 10/27/10
Dekalb, IL has a model shelter, Hope Haven, but they need to expand. Hitting the zoning speed bump, they addressed the City Council. Diane was able to lend support at the hearing. This story touches on the saga. 10/25/10
Diane teamed up with Northern Illinois University media professor Laura Vazquez to film and produce on the edge, a powerful documentary on homelessness. The NIU story about this effort covers all the bases! 10/14/10
The Naperville City Council responded to the HEAR US request to declare 10/29/10 "Mary Lou Cowlishaw Day" because of her tremendous contributions to the educational rights of homeless children nationwide. HEAR US and North Central College will co-sponsor MLC tribute and on the edge screening. 10/5/10
Deep in the red-soil south in NW Georgia, Tillie and Diane are at Kennesaw State University to raise awareness about homelessness. The HEAR US CEO and her home/office spent the night on campus. 10/5/10
HEAR US collaborated with the renowned radio interview show, "The Story," to give Melissa A. the opportunity to talk about her homelessness in affluent DuPage County IL. Melissa and her 5 young children are homeless, staying for the time being in a motel. Listen to this inspiring, enlightening 20-minute interview. 10/4/10
Four years after the concept of "on the edge" was proposed by Professor Laura Vazquez of Northern Illinois University, this NAEHCY BEAM article describes the process for the almost finished documentary film that lets women tell of their experiences of homelessness. 8/10
North Carolina ranks low when it comes to preventing families from becoming homeless. Diane speaks to the need for continued and increasing funding to help schools assist homeless students. McClatchy News, 8/8/10
Hear Diane talk about her HEAR US adventures on "The Story," a public radio feature, 7/28/10.
Front page and several pages of pix and story about "on the edge" in the Naperville Sun, 4/26/10.
Great story on the "on the edge" screening HEAR US held in Aurora, IL. Sometimes you can tell when the reporter paid attention and gets it. This reporter falls into that category! Courier News, 4/25/10
Family and teen homelessness often gets little attention in the media or in government. HEAR US founder Diane Nilan offers a challenge to her former home community, Aurora, IL, inviting them to learn more about this issue in her op-ed column in the Beacon News, 4/19/10.
Besides loons and mosquitoes, the fine state of Maine exports some brilliant observations, e.g. this column by a longtime political figure and journalist, now running a homeless shelter. Bangor Daily News, 4/6/10
The word spreads, from the Fox-Chicago story about HEAR US back in Nov., to this Woman's History post. Partizane, 3/24/10
The Homelessness Resource Center newsletter did a Q & A with Diane. HRC, 3/23/10
My visit to Austin, TX was worthwhile! Had a great screening of the rough cut of our documetary, It's All About the Children, which got some radio coverage on KUT, 2/4/10
An amazing story about HEAR US by Mark Saxenmeyer of FOX Chicago has been making its rounds, and even was reposted, with some added comments, on The Huffington Post. 11/23/09
A blustery, nor'easter kind of day set the mood in Boston where Diane joined MA advocates urging homelessness services budgets not be slashed. NECN reported on the bleak story. 10/16/09
The reporter from The Herald in Mercer County PA got the story right. Diane's recent visit at Thiel College in Greenville provided an excellent opportunity to share the work of HEAR US and to raise awareness of homeless families and youth. 10/6/09
In the Naperville Sun, the reporter describes the invisible homelessness that plagues former residents of this posh area. HEAR US' Diane Nilan provided expertise for this dismaying story. 9/13/09
Diane visited Franklin, IN and addressed audiences about unmet needs of homeless youth in that community. The Daily Journal reported on this event. 9/10/09
The Aurora Beacon News ran an op-ed column by Diane to call attention to school enrollment issues that might be excluding homeless students. 8/22/09
Daily Herald Diane and 3 other awesome presenters addressed the challenging issue of what needs to happen post-economic meltdown to an audience in Elgin. 7/12/09
DiscGolfer, the new PDGA member magazine, has a story about HEARUS! Disc Us!, the HEAR US project to teach homeless kids how to play this favorite sport of Diane and Sr. Helen. Spring 09
Aurora Beacon News reports that although some progress is being made identifying and assisting homeless students, more work is needed. HEAR US is concerned about 400 kids kicked out of West Aurora's district allegedly for being non-residents. 5/3/09
NCTV17 DuPage County, home to HEAR US, is one of the wealthiest counties in the nation, with a sizable population of homeless children and youth. HEAR US joined other DuPage organizations calling attention to this issue. 4/19/09
Las Cruces Sun A return visit (2/23-3/8) to Las Cruces gives Diane a chance to raise awareness about homeless families with even more LC residents thanks to efforts from the LC school's Project Link.
Georgia Public Broadcast Listen as a mom talks about how incarceration affects her children 1/7/09
NOTE, the entire 1/2 hr. show gets downloaded. Slide the bar to the middle--that's where the HEAR US story is.
Atlanta Journal Constitution Nilan Films in Jail 1/5/09
Photo Gallery from AJC coverage
Chicago TribLocal HEAR US Goes to Jail 12/17/08
DeKalb Daily Chronicle HEAR US and NIU Student 12/10/08
Skidmore News Diane's Skidmore College Presentation 12/5/08
Northern Today NIU student's work on HEAR US' REACH 11/24/08
Las Cruces (NM) Bulletin What it means: No family shelter 10/24/08
SUNY Podcast of Diane's Presentation 10/21/08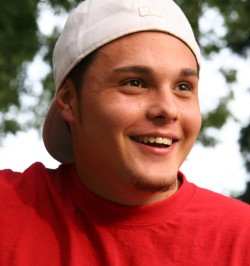 Lost Charlie is found 8/24/2008
Diane's current picture of Charles is a great follow-up of Pat Van Doren's original Charlie pix.

HEAR US Benefit The goodness behind the Bene-Feast 8/14/2008
DailyGood Diane's essay about a homeless man 8/8/08
Where are they? 15 years ago, family photos 7/20/2008
Binghamton, NY visit 5/2/08
Florida Mom's Pursuit of Happiness 4/01/2008

Guideposts A Look at HEAR US 11/07 (from Positive Thinking Magazine)

Christian Science Monitor The best story written about HEAR US 5/24/07

Woman documenting plight of homeless children

Crusader tackles 'larger problem than most people realize

Lemonade Stand Aids HEAR US
https://www.chicagotribune.com/suburbs/aurora-beacon-news/opinion/ct-abn-crosby-diane-nilan-st-1117-20211116-g2ktlufrwnhtlldvz5o64za2eu-story.html