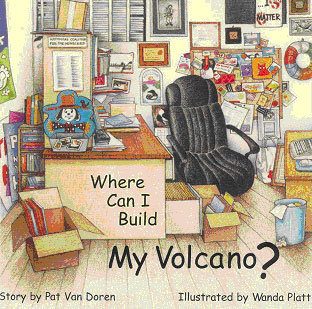 WHERE CAN I BUILD MY VOLCANO? (published 1998)
CLICK HERE TO VIEW A 5-MINUTE VIDEO OF THE PREMIERE RADIO BROADCAST of the VOLCANO BOOK.
Young Susan and her mom end up homeless the way so many families do—losing their humble home, grasping onto a friend or family member to stay with, sleeping in a car, then turning to the dreaded shelter.

Day-to-day ordeals unfold for Susan both in school and at the shelter. Her world reflects the reality of so many young kids in similar situations—coping with the anxiety of not having a home of their own.

Written by Pat Van Doren and illustrated by Wanda Platt, this book poignantly depicts the story of a homeless girl and her mother as they cope with the day-to-day realities of homelessness.

The book is available for $15 (shipping extra) from HEAR US. The set of 3 children's books are $40. Quantity discounts.
THIS BOOK WAS AWARDED OUTSTANDING MEDIA BY NAEHCY IN 2006
Sequel to Volcano...A Place of Our Own...