Action Alerts!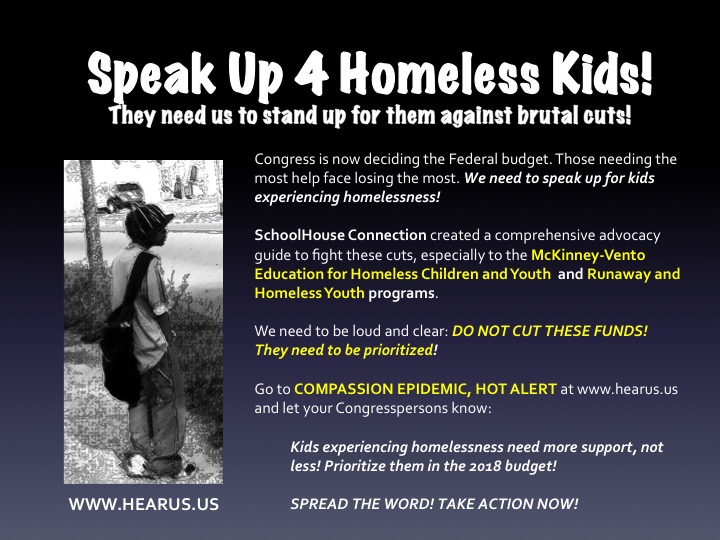 ALSO visit: www.helphomelesskidsnow.org
As Congress makes budget and policy decisions, HEAR US wants to make sure the needs and priorities of families, children, and youth experiencing homelessness are protected.
This is not a constituency with a powerful lobby, unless you count US. So we need to put extra effort into this cause!
HEAR US will depend on partners like SchoolHouse Connection for advocacy alert info. And we depend on you to get word out and urge action!
ACTION
ALERT
ISSUE
TIMING

ACTION ALERT #1 (3/10/17)

EHCY, RHYA Budget Concerns

EHCY, RHYA Budget Concerns

Education Homeless Children & Youth Act (EHCY)
the Runaway and Homeless Youth Act (RHYA)

Action needed by April 6, 2017

As of 7/18/17, word is that these line items will not be cut, or increased.

ACTION ALERT #2 (3/18/17)

What you can do to help HCYA pass

HOMELESS CHILDREN AND YOUTH ACT 2017
Introduced (3/16/17) (H.R. 1511/S. 611)


The Homeless Children and Youth Act (HCYA) is sponsored by Senators Dianne Feinstein (D-CA) and Rob Portman (R-OH), and in the U.S. House of Representatives by Congressman Steve Stivers (R-Ohio-15) and Congressman Dave Loebsack (D-Iowa-2).

Homeless Children and Youth Act FACT SHEET

Now! A long process but we need to build momentum!