HEAR US Media Releases
Contact Diane Nilan,

This email address is being protected from spambots. You need JavaScript enabled to view it.
Kicking Off "Charlie's Compassion Challenge" in the Fox Valley
[June 11, 2018, Naperville, IL]
A poignant image of an adorable little boy reflects the invisible reality for millions of children and youth in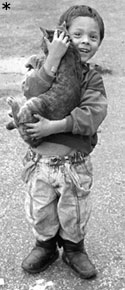 America—homelessness. Twenty-five years after his introduction, "Charlie" continues to lead the charge for kids who have no place to call home, with Naperville, IL-based HEAR US Inc. issuing Charlie's Compassion
Challenge.


Believing compassion could make a major impact in local communities across the nation, HEAR US, a national
nonprofit, has kicked off the initial "Charlie's Compassion Challenge," inviting civic and religious organizations,
schools, scouts, social service agencies, and do-gooders everywhere to make a difference in lives of thousands of children and youth experiencing homelessness in the Fox Valley area.

The latest HEAR US publication, The Charlie Book: 60 Ways to Help Homeless Kids, gives 5 dozen of ways to meet basic needs of kids of all ages who lack a place to call home. HEAR US published this guide ($10), to
generate local help to assist this mostly invisible segment of the homeless population. This pilot campaign in the Aurora-Naperville area asks participants to pursue (at least) one of the Charlie Book's 60 suggested activities, e.g. collect diapers and baby items, sponsoring a child at summer camp, donate back-to-school haircuts or school supplies.

This local effort will culminate in November at an event sponsored by HEAR US for "Homeless Kids Awareness
Week." The HEAR US board is recruiting other homeless service agencies and local schools to participate and
benefit from this effort.

Helping homeless kids is good for all involved, homeless and not. "Wouldn't it be wonderful if HEAR US, our small
organization, could inspire a surge of compassion and awareness?," reflected Maria Wilson, board member and
leader of St. Timothy Lutheran's volunteer team that serves at the homeless shelter at Aurora's Hesed House.

HEAR US, founded in 2005 by Diane Nilan, the former Hesed/PADS shelter director, "gives voice and visibility to
families and youth experiencing homelessness." She has traveled around the country in her little van for the past
13 years making short documentaries of families and youth sharing their homelessness experiences and what
school means to them.

Nilan was part of a small group that successfully pursued passage of the first state law removing barriers common
to homeless students, a law that is now expanded to the entire country. Her work greatly assists this ongoing
effort, providing powerful videos used as professional development tools vital to educating the more than 1.3
million homeless students in public schools.

Pat Van Doren, a Naperville Sun photojournalist (retired), captured the unforgettable image of Charlie, the poster
child for the successful 1994 Illinois Education for Homeless Children Act campaign, aka "Charlie's Bill." This
image also figures prominently in the HEAR US logo and the Charlie Book cover. Twenty years ago, Van Doren
and former Sun artist Wanda Platt also created the award-winning children's book on homelessness, Where Can I
Build My Volcano?, which Van Doren is working on getting produced as a stage play this fall.

The impact of Charlie's Compassion Challenge going viral will be felt nationwide. Not bad for a little boy's work!
# # #