Crossing the Line:Taking Steps to End Homelessness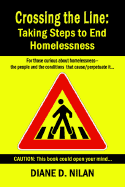 Title: Crossing the Line: Taking Steps to End Homelessness
Author: Diane D. Nilan
Format(s): PDF (ebook) | Paperback
Pages: 254
Ebook Price: $12.95
Paperback Price: $17.95
Category: Education

ORDER FORM to order from HEAR US
also available through Amazon or your favorite book vendors.

Free Excerpt: 2 chapters (pdf)

Background

Few social issues have perplexed Americans like homelessness. Crossing the Line: Taking Steps to End Homelessness changes that. This reader-friendly handbook is for those puzzled, concerned, impatient or oblivious about homelessness.

Decades of unremitting growth of homelessness continue to contradict this nation's prosperity. The old woman toting her belongings in the rain, the invisible family washing up in the restaurant bathroom, the teen living in the public library, or the shrouded figure sleeping in the park - all swept under this nation's rug of shame. Few families are immune from homelessness; yet wholehearted approaches don't seem to attract the national attention, energy and resources required for solutions.

Rampant poverty and despair uncovered in the aftermath of Hurricane Katrina began to raise awareness, but a vast learning gap still exists for most. Nilan takes readers on a staggering journey that clarifies homelessness in a way that inspires action.

This "ordinary person" doing extraordinary work for the past 20 years has compiled an engrossing chronicle of her extensive experience with homeless adults and children, painting spellbinding images of the often nameless and frequently forgotten individuals. Her passion for this issue, and those labeled with the often-negative designation "homeless," burns throughout this riveting work.

Crossing the Line takes readers behind the scenes at a hectic suburban emergency shelter and introduces an unlikely cast of characters who confirm the path to homelessness is easier to enter than to exit. Nilan's perceptions and her direct style avoid clichéd stereotypes as she depicts scoundrels and saints.

She spares neither alcoholic nor lawmaker. She extols virtues of convicts and congresspersons. She challenges the affluent and the righteous—don't just stand there, do something! She holds the hands of first-time shelter volunteers. She guides those unable to volunteer but who want to alleviate suffering. She points out seldom-acknowledged systemic shortcomings and identifies societal faults, without sparing herself.

Disarming revelations about her foibles and fears remove excuses that only special or professionally trained people can help, inspiring ordinary persons to alleviate the suffering and injustice of homelessness. Nilan offers seldom-revealed insights about this nation's poverty policies. Her book hits personal security in the gut with stories about who ends up homeless.

Weaving her personal story throughout this book, Nilan clarifies personal responsibility of all Americans in addressing homelessness and bringing about solutions. No one is exempt—rich or poor, powerful or inconsequential—in restoring the American Dream and eliminating the nightmare of homelessness.

This unique chronicle allows readers to learn about the topic that only rises to the nation's attention when tragedies like Hurricane Katrina hit. It should be required reading for every political and religious leader, social worker and educator, journalist and news director, philanthropist and aspiring do-gooder.

Finally a book exists that tells a story about maligned persons that not only does them justice but demands justice for them. Nilan's willingness to take on this topic matches her motivation to ensure many more people Cross the Line. It's a journey worth taking…


About The Author
Diane Nilan, a respected, relentless advocate, voluntarily plunged into homelessness to address this ignored issue. Her 25 years working with homeless persons: running suburban shelters, successfully leading legislative efforts to guarantee educational rights for homeless students, and training educators about those rights provided her with myriad riveting stories to share.
Since 2005, Nilan's been on backroads of all 48 states in the lower US, chronicling homelessness of homeless families and youth. She travels in her road-weary RV she's dubbed Tillie. She's teamed up with Dr. Laura Vazquez, media professor at Northern IL University, to produce My Own Four Walls and on the edge, acclaimed documentary films about homeless children, youth and families.
Nilan is a sought-after presenter, sharing her unconventional observations about homelessness. Her extensive work on the issue of homeless students' educational rights gives her a vast knowledge base to share with audience.