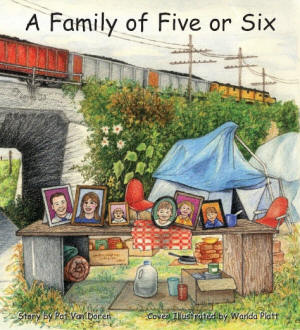 A Family of Five or Six (published 5/08)
Homelessness happens in many ways-Michael and his family landed in a tent following a powerful storm.
Family separation, struggles of "camping" without prospects of going home, and difficulties of doing school work at a picnic table are just some of the authentic experiences of this family.

What makes Family even more realistic may be found inside. Young students from Carrollwood Day School in Tampa, FL provided artwork and collaborated on the story, sharing valuable insights from their 5th and 6th grade perspective.
Written by Pat Van Doren and illustrated by Wanda Platt, this book is available for $15 (shipping extra) from HEAR US (ORDER FORM), or Anderson's Books in Naperville. Buy the set of 3 children's books for $40.
Also check out the sequel to Volcano... A Place of Our Own!