Compassion Epidemic -
Advocacy
Kids are H-O-M-E-L-E-S-S.
And not enough people seem to be paying attention.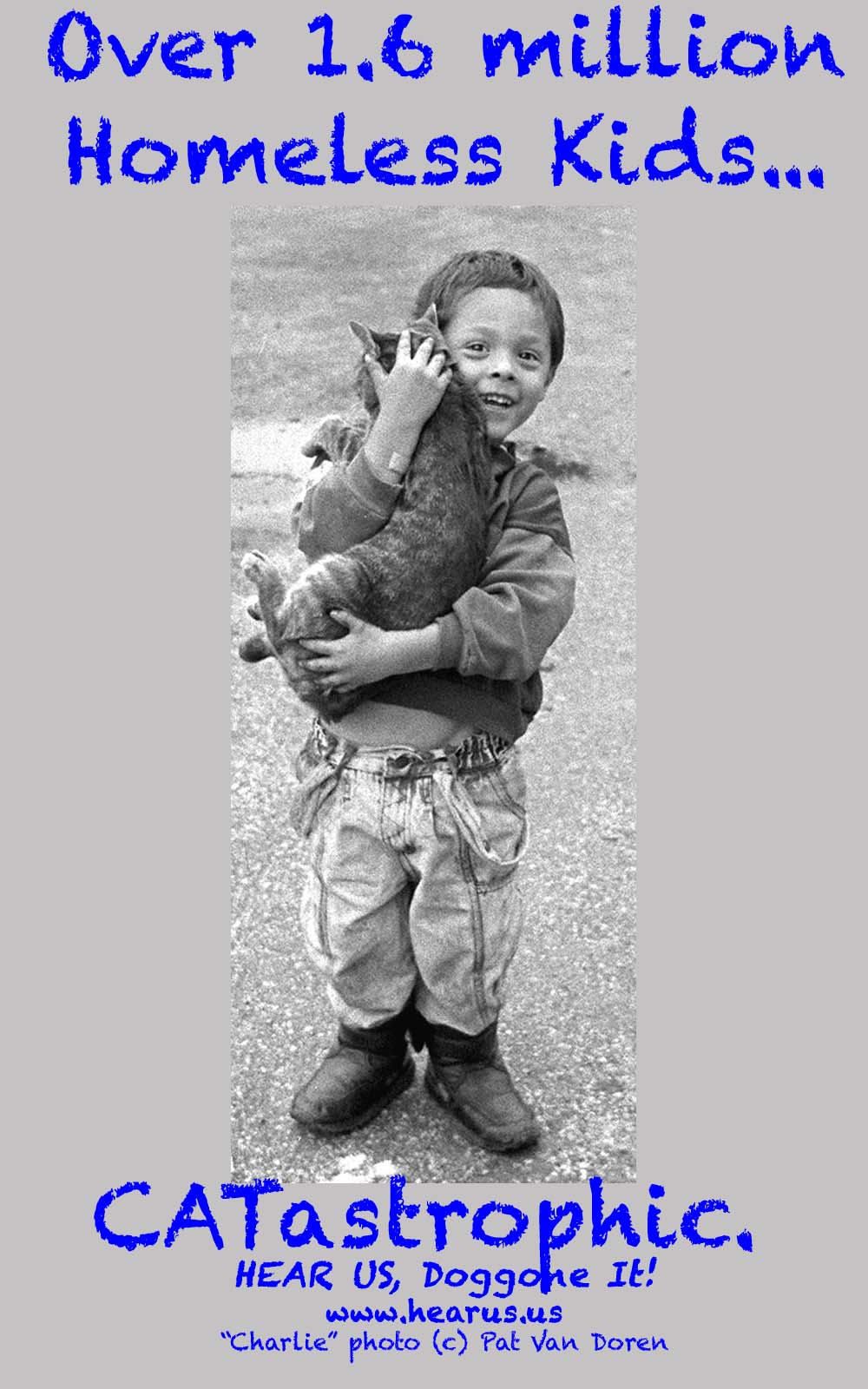 Our new project, HEAR US, Doggone It! (with apologies to cats)
will chronicle (video, still, and stories) what kids think about losing their pets when the kids-and the pets-lose their homes.
Besides making you feel bad, we want to generate a
COMPASSION EPIDEMIC to help kids--with and without pets.
Doggone Shame - See a 2.5 min. YouTube video of Jason, a veteran, his 3 sons and their cute little dog. HEAR US, Doggone It! (12/12)
Barb: HEAR US, Doggone It! - Barb shares the story of her and her son's homelessness, and their efforts to keep their pets, 4-min. (2/13)
About HEAR US, Doggone It!
PROBLEM:
Despite everyone's best efforts, the crisis of millions of homeless kids, with families or on their own, escapes our nation's attention span, thus policies and practices lag and resources sputter. Competition for media attention makes it almost impossible to garner interest about this skyrocketing crisis.
PROBLEM-2:
Families and youth with pets face additional barriers to emergency (also temporary, transitional and permanent) housing. With rare exception, pets must go--be given away, euthanized, or just left behind--in order to be allowed into shelters or other housing options (doubled-up, motels, etc.). For kids, the trauma of this loss often overshadows the loss of their home. Families/youth will often opt out of traditional temporary/emergency housing options if it means giving up their pets. Family/friends who would otherwise take them in often refuse because of the pets. Sleeping in cars, tents, abandoned buildings, enduring extreme temperatures and safety issues, becomes the only option to hang onto their furry friends.
HEAR US, Doggone It! will chronicle (ok, blatantly exploit) the reality of kids who, when they become homeless, must give up pets. This project lets kids tell their stories, show their pets (if they are still with them, or show pictures), thus giving a different look to homelessness.
What we hope will happen...
Greater awareness, hopefully leading to a "Compassion Epidemic."

Provides local programs/initiatives opportunity to spark interest in their programs.

Who knows, pet-loving lawmakers, landlords might have a change of heart and....
Let us know of any cool kid/pet stories! Send pictures. Invite us to visit your community!